History
"Cesoles" Centro Solidaridad la Esperanza was founded in 1999 by two religious sisters of the assumption and a group of community women. It's a nonprofit association, with 13 years of community work experience over hillside  population vulnerability at the southwest of Santiago de Cali - Colombian city. Our social object is pointed to the construction for human community and solidarity with children, young people, women, men and his families.
Mission
We accompanied developed process about human-spirit, from social matter, educational, ambiental, economic, politician, and cultural, allowing children, women and men from vulnerable and exclude communities, been solidarities, actives, critics and propositionals in a individual and colective level, that contribute to the reconstruction in a dignified and equitative society.
Vision
Work in the construction of a human community and solidarity with children, young people, women, men and his families from local and international level, trough the educative, cultural, administratives and management strategies implementation.
Purpose
Generate educational and cultural process with different actors, through pedagogical projects, that enables research, creation and context transformation to the educative community where Cesoles has his action ratio.
Develop different planning, evaluation and systematization mechanisms from programs and projects that enable the Association projection and growth to qualify his social duty.
Especific objectives
To generate educational and cultural processes with stakeholders, through educational projects that enable research, development and transformation of the educational community context in the range that Cesoles covers.
To develop different mechanisms of planning, evaluation and systematization of programs and/or projects that facilitate the design and growth of the Association, to qualify their social activity.
To manage policies of achieving economic and human resources to different governmental and non-governmental entities with a strategic vision and criteria according to the institutional philosophy, through agreements, contracts, grants and Inter-relationships that allow the consolidation of various social projects.
Our Philosophy
The principles and options of Cesoles are oriented from a CHRISTIAN SPIRITUALITY ACCESSION as motivation for actions. For Cesoles life is a gift of nature mediated by the creative power of God the Father and Mother being the man in the image and likeness. Open to the importance and relationship with others.
The DEFENSE OF LIFE and human dignity, in pursuit of social justice, equity and peace. Life is a choice that touches all aspects of the person: their relationship with God, with themselves, with the community and creation. A full life without violence, with tolerance, respect and full exercise of their rights and duties.
---
1999
Sisters of the Accession, Nora and Liliana perform recognition of the sector of Ladera in the city of Cali.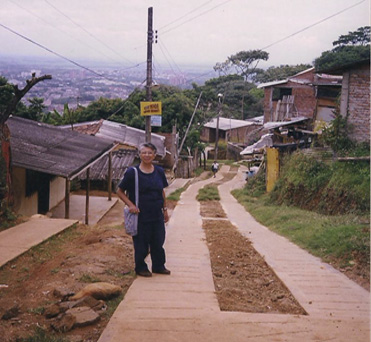 A rental room in the house of Don Francisco, where the Sisters Nora and Liliana met with women in the sector.
Meetings with women and children of the community of La Esperanza. Community and organizational work is being performed focusing on satisfying collective needs and interests such as food and childcare. 
Dining and Playground function in the house of Don Hugo.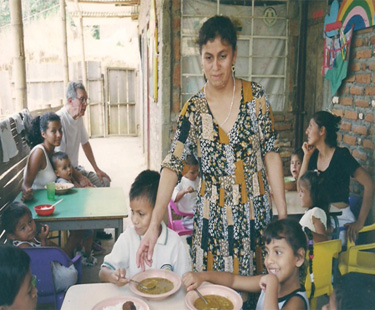 Achievement of the lot for the construction of the Cesoles headquarters. A donation of Mrs. Laura Restrepo Mejia. The community welcomes the Little Sisters with a banner and the community pot.
2001
Cesoles Opening on 4 February 2001.
It is celebrated with a Mass and party at the headquarters. 
 
The dining room and library are in operation, besides initiating tutoring for the children of the community.
2002
Reopening of the kindergarten
Pastoral and Cultural Group
2004
Iron construction of the third floor, where they perform artistic activities and meetings, allowing the Growing Solidarity of the Kindergarten to permanently function on the first and second floors.
Thanks to the Promédico board, the installation of some games in 2004 that brought much joy and entertainment to the children. The green area used for recreation for children is equipped with a playground.
 2006
CESOLES gana el 2do puesto a nivel nacional por categoría comunitaria en el IV Premio por la Nutrición Infantil, otorgado por la Fundación Éxito. 
2007
CESOLES gana el Primer lugar en el "Programa Por una Cali Mejor".  Septiembre de 2007.
2008
En el año 2008 se volcó el muro de contención en ladrillo común que se encontraba en la zona verde de la sede, debido las intensas lluvias de la época y los malos manejos de aguas residuales del entorno, ocasionando la inundación de los salones de trabajo existentes en el momento.
Con el apoyo de la Fundación Mariana Hoyos, se compra el lote para el parque infantil que existe actualmente, permitiendo ubicar el comedor y la cocina donde funcionan hoy en día. 
2011
Se traslada la biblioteca al tercer piso dándole la amplitud necesaria para el trabajo de acompañamiento de tareas, promoción de la lectura y actividades lúdico-pedagógicas.    
2012
Compra de lote aledaño a Cesoles, donde se construyó tres pisos para el funcionamiento del pulguero y salones del Jardín Infantil.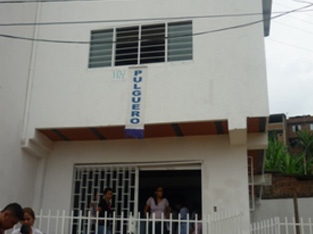 2013
CESOLES cuenta con una trayectoria de 13 años, que ha sido posible por el trabajo comunitario de sus fundadoras Nora, Merceditas y Magdalena junto a un equipo de mujeres que aporta sus saberes, conocimientos, energía y solidaridad cada día.